Description
[
]
Before you get the wrong idea, this was a radio series about the goings on at a TV station - Troughtbridge TV Ltd. The series came between series four and five of the Navy Lark, and retained the same 'crew', just altering the setting and titles to breathe some new life into the show. The fact that there was only the one series before everybody was back in the Navy and aboard HMS Troutbridge shows that the idea was not a complete success, but nothing ventured, nothing gained.
The premise of the show was that Captain Povey finally managed to persuade the Admiralty that Troutbridge, and her entire company, were surplus to the Navy's requirements and as such could be disposed of. All well and good, he thought, but in doing so he managed to throw the baby out with the bath water and convinced them that he, too, was surplus, and as a result became redundant.
With Mister Henry Povey now the Troughtbridge TV Ltd.'s Deputy Controller, with a staff of Mister Stephen Murray as his Producer, Mister Leslie Phillips, Director, and a certain Mister Jon Pertwee as the Floor Manager, Troughtbridgeshire can look forward to hours of excellent broadcasting, provided they erect the enormous aerial needed to pick up the very weak signal, that is.[1]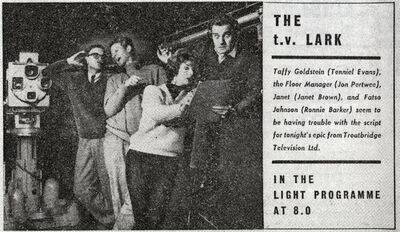 Episodes
[
]
References
[
]